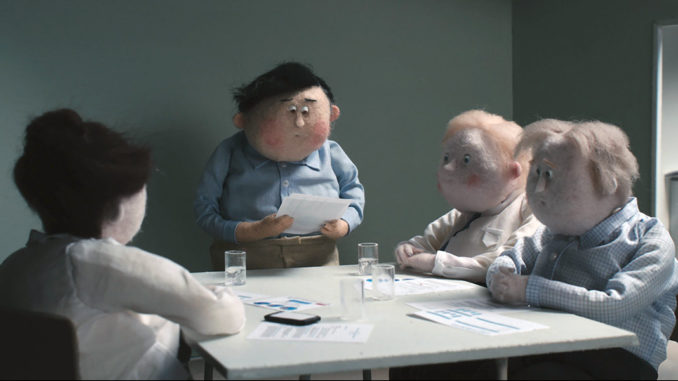 Competition Selections
13:46 – Jocelyn Charles, Morgane, Ravelonary, Pierre Rougemont, Camille Guillot, Quentin Boyer Di Bernardo, Joséphine Meis
A Photo of Me – Dennis Tupicoff
Airport – Michaela Muller
Birds – Joseph Bennett
Camille – Rémy Clarke, Leïla Courtillon, Nathan Otaño
Clemence's Afternoon – Lénaïg LE Moigne
Dead Reckoning – Paul Wenninger, Susan Young
Doll's Don't Cry – Frédérick Tremblay
Dolly.Zero – Ugo Bienvenu
Dreamland – Mirai Mizue
Enough – Anna Mantzaris
Extrapolate – Johan Rijpma
Fish Curry – Abhishek Verma
Flesh Nest – Andrew Huang
Fragments – Naoyuki Tsuji
Gros Chagrin – Céline Devaux
Hedgehog's Home – Eva Cvijanović
Jeom – Kangmin Kim
Link – Robert Löbel
Happy – Alice Seay
Lotus Langern – Xinpei Shen
Lupus – Carlos Gomez Salamanca
Manivald – Chintis Lundgren
Mountain Castle Mountain Flower Plastic – Annapurna Kumar
Negative Space – Max Porter & Ru Kuwahata
No Stories Now – Chris Bishop
Octane – Jeron Braxton
Opal Waltz – Vincent Tsui
Panda – Shen Jie
Pépé le morse – Lucrèce Andreae
Play Boys – Vincent Lynen
Projection on Sofa – Violette Delvoye
Pussy – Renata Gąsiorowska
Rabbit's Blood – Sarina Nihei
Räuber & Gendarm – Florian Maubach
Sea – Kim Laughton
Snow White Cologne – Amanda Eliason
Spring Time Old Man – Hoji Tsuchiya
Tenneessee – Jack Wedge
That Yorkshire Sound – Markus Armitage
The Battle San Romano – Georges Schwizgebel
The Burden – Niki Lindroth von Bahr
The Ogre – Laurène Braibant
The State of Things – Ryo Orikasa
The Tesla World Light – Matthew Rankin
Ugly – Nikita Diakur
Via – Maria Ferreria
Volcano Island – Anna Katalin Lovrity
Who's the Daddy – Ping Wong
XOXO – Wiola Sowa
Children's Competition
Aport – Denis Voronin
Birdlime – Evan DeRushie
Hedgehog's Home – Eva Cvijanović
Island – Robert Löbel
Miriam by the Lake – Riho Unt, Sergei Kibus
No-no needs to Try a Sport – Auvray Mathieu
Our Wonderful Nature – The Common Chameleon – Tomer Eshed
The Green Bird – Pierre Perveyrie, Maximilien Bougeois, Marine Goalard, Irina Nguyen-Duc, Quentin Dubois
Pocket Man – Ana Chubinidze
The Sled – Oleysa Shchukina
Two Trams – Svetlana Andrianova
Voyagers – Gauthier Ammeux, Valentine Baillon, Benjamin Chaumény, Alexandre Dumez, Lea Finucci, Marina Roger
U.S. Competition
△▽ – Conner Griffith
Blind Mice – Nicholas D'Agostino
How to Paint Your Rainbow – Erick Oh
Icebergs – Eirini Vianelli
Little Red Giant, The Monster That I Was – Laura Harrison
Marshall McLuhan – Daniel Savage
Mind Frame – Jake Fried
Ming – Daski Tang
Power – Dana Sink
Spank Shot – Gina Kamentsky
Strange Fish – Steven Subotnick
Summer of Love – Marcie LaCerte
The Kid Who Drowned at Summer Camp – Marianna Hersko
Weekends – Trevor Jimenez
International Showcase
[O] – Mario Radev & Chiara Sgatti
Advice to the Young Artist – Daniella Shuhman
An Island – Rory Byrne
Analysis Paralysis – Anete Melece
Barbeque – Jenny Jokela
Cococo – Julian Gallese
Divisional Articulations – Max Hattler
Elegy – Paul Bush
Eluvium – Regenerative Being – Stas Santimov
Gyro's Dance – Piotr Loc Hoang Ngoc
Have Heart – William Anderson
Jigoku Metamoru – Sawako Kageyama
Late Afternoon – Louise Bagnall
Pain – Nadya Fedotova
Riot – Frank Ternier
Sog – Jonathan Schwenk
The First Exhibition – Jonathan Djob Nkondo
True North – George Bowler
Wicked Girl – Ayce Kartal
In addition to the competitors choices, the pageant additionally introduced right now a GIF competitors in partnership with Giphy. The winner of the competitors will obtain a money prize of $500. Details on how you can take part are on the Giphy website.
The pageant has beforehand introduced its guest line-up that options Lego Movie administrators Phil Lord and Chris Miller, in addition to a various group of animation filmmakers together with Réka Bucsi, David OReilly, Jonathan Hodgson, Sophie Koko Gate, and Boris Labbe, amongst others.
For extra particulars on the movies, in addition to ticket info, go to GLASAnimation.com.
(Still at prime: "Enough" by Anna Mantzaris.)